I've been personalising Christmas stockings full time for the last few days it seems. Because the stockings are made with quite rough textured felt it is a real problem getting the lettering on to the fabric so that I can embroider the names. I have been using a charcoal pencil, but that is rather unsatisfactory because drawing on the felt is difficult, smudgy, and the pencil gets very clogged up with wool. Yuck.
So, today, I had a bit of an inspiration when I remembered reading about the 'prick and pounce' method of transferring pattern to fabric in Diana Springall's book
Embroidery
. So I tried my own version of it.
First I drew my design on thick tracing paper.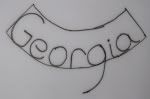 Then I pricked along the lines of the tracing with a chunky needle (sorry, rubbish at knowing about needle sizes) - you might be able to see in the photo below that I missed the dot on the letter 'i'!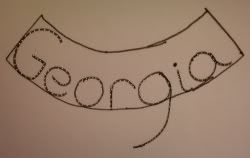 Then I laid the tracing on the felt stocking I'm working on at the moment. Holding it firmly in place I then scraped a bit of tailors' chalk dust on to the tracing paper & rubbed it in a bit with my finger. If you were doing prick and pounce properly then you would use pouncing powder - ground up cuttlefish - & a brush so I don't think you would need to rub it in.
Then I lifted up the tracing paper and - tada! - it worked perfectly! I then pressed the chalk in a bit with my finger so it didn't just brush off.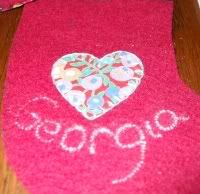 People have been using this method of transferring pattern to fabric for centuries. I think the next step is to join up the dots with paint, otherwise the pattern would soon be rubbed off. Fortunately, the chalk I used lasted for long enough for me to finish the embroidery.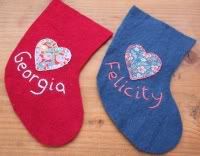 I've just read that it's also traditional to use ground cinnamon for pouncing. That sounds infintely preferable to using ground cuttlefish... And wouldn't it make Christmas stockings smell nice and Christmassy?
I feel the need to record how hard I've been working these last few days. So - we've got the embroidery above...
This very sweet little blue elephant: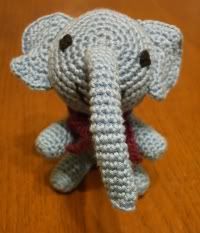 Some crochet brooches (er, not quite finished):
Finished a scarf using the stunning beautiful Colinette prism in Autumn Leaves: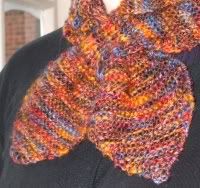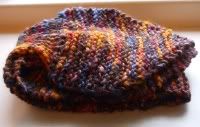 No wonder I'm cream-crackered...