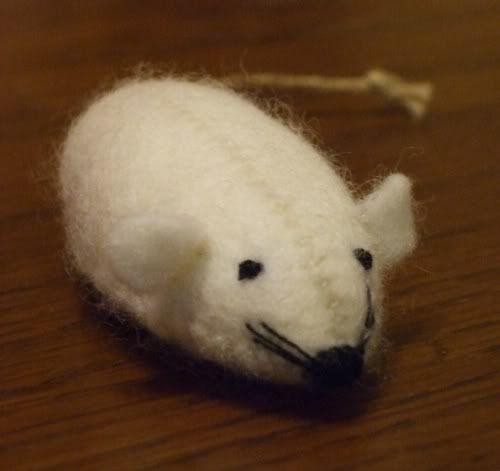 I needed a break from stocking-creating, scarf-knitting & apron-fashioning these last couple of days. I've got lots of ideas for new things to make & it is quite frustrating (sometimes) to be limited to making lots of the same thing. Of course, I shouldn't complain because what it does mean is that business must be going well, but occasionally it does get to me & I need a bit of a change.

Of course, it couldn't be anything too big because I haven't really got the time or energy for anything ambitiously creative & huge so came up with the idea of making a little creature that could make an appearance in my sons' Xmas stockings. I dallied with the idea of a ladybird, then suddenly remembered that little white sugar mice with string tails are a traditional feature of Xmas stockings in my partner's family. So here's my non-tooth threatening version - just some fuzzy white felt, a bit of black embroidery thread and some hemp twine for a tail. He's about 3 inches long & very very cute. And it was so nice to have a break from Christmas stocking furry fluff! I am wondering if I have got time to make a few to put in the shop before Christmas...

And just a final note to say - this is my 49th post - my 50th post giveaway is coming very soon!!