Lots of linkies...
I want to record of a few of the vintage fabric & textile places I've been looking at on the old interweb...
The Airing Cupboard
- vintage fabric shop on Ebay. Lots of William Morris, Sanderson, Liberty and Laura Ashley. A good retro section too.
Classic Modern
- site selling 50s-70s textiles, lighting, ceramics etc. Lovely place to look for inspiration.
Country House Antique Textiles
- some absolutely gorgeous fabrics some of them available in much larger quantities than is usual. The prices seem a bit steep (for me anyway) but the range is very good. Ooooh, and I have just seem some lovely vintage buttons & Scottie dog ribbon...
Rag Rescue
- sell bags of smaller scraps of fabric & larger pieces. The sort of site that you might have to hunt around for a real gem, but the prices are good & there are very interesting haberdashery & embellishment sections.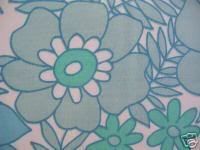 Meggy Magpie Fabrics
- another ebay shop. Not a huge selection at the moment but there are some bargains here & definitely someone with a good eye for stuff that will appeal. Some particularly fun 70s fabrics are currently listed (e.g. picture on the right).
Fancy Nancy Fabrics
- an ebay shop with lots of super-trendy Japanese imports, gorgeous Christmas fabrics & well known designers. Helpfully the fabrics are organised by style & season as well as by designer/manufacturer.