Some crocheted brooches
I've been crocheting away & have loads of brooches ready for when we get round to opening our Etsy shop. We were planning to open around now, but the death of my dad plus our plans to move up north mean that all that has had to be postponed. I guess the upside of the delay is that I will have a fair bit of stock to make the shop look nice & busy.
Some pics: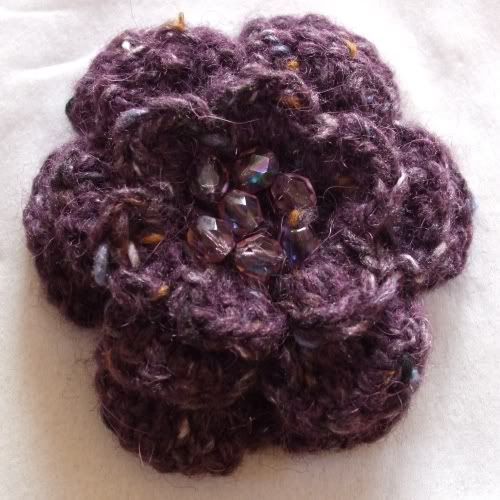 I call this the tweedy one... It's done with Rowan Felted Tweed in Bilberry. I was really lucky & got a whole load of Rowan yarns for £1 a go just before Christmas when our local John Lewis store moved premises. This kind of being in the right place at the right time rarely happens to me so I bought as much as I could manage to carry.... The beads in the centre are faceted glass beads in amethyst which I got from
Beads Unlimited
. I haven't got vast experience of buying beads but they have some lovely things, seem to have some ethical standards & very fast delivery, so I have been really impressed by them.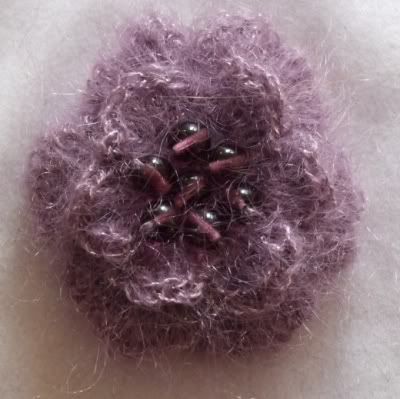 This second brooch I call the fluffy one. Again made with some bargain yarn (this time it's Rowan's Kidsilk Night in Fountain). I love the fluffiness & the little bit of silver running through the yarn. The beads are amethyst again, but this time just plain round glass.
There seems to be a bit of a purple theme going on - I have to confess that it is one of my favourite colours. I must try & expand my repetoire a bit but could also do with John Lewis having another crazy sale...
Being a bit more organised..


I tend towards the disorganised although I hate the feeling of out of control-ness that comes with that so am also addicted to lists & frequent attempts to rearrange and reorganise stuff...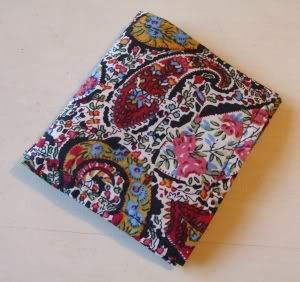 One thing that I know drives my partner nuts is my terrible tendency to leave needles lying around in places that are meant to be secure but ar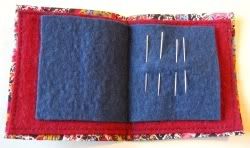 en't. Needles then end up on the floor to be picked up by kids, knelt on, stood on... So in an attempt to stop that kind of thing and get a bit more organised I decided to make myself a needle book. It needed to be small enough to fit in the pocket of my jeans & cute enough for me to want to use it. This is what I came up with. And I must confess I am feeling pretty pleased with it. The insides are pure wool felt which makes it all very straightforward to sew, and the outside is my favourite fabric of all time (until next week anyway) - some Liberty paisley lawn. I bought this on ebay eons ago - it's too small to do much with so this seems a really good use for it. Since I took these photos I have also added a little purple ribbon loop & a button so that I can keep the thing closed if (when) I leave it lying around.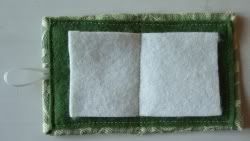 Here's a green one I made with the loop attached - you can just see it on the left there. This green fabric is gorgeous & is another one that I have had lying around for ages - so long in fact that I have no idea where or when I bought it. I think it came from a remnant bin though. The intention was to use it for cushions I believe, but I never got round to making them. These are pretty quick to make & I am thinking people might find them pretty AND useful, so I am hoping they will be in our shop too.
I've spent some time today making a fresh Indian pickle using seasonal veg which has turned out very well indeed. I will try & blog about it on our
Seasonal blog
when I get the opportunity. We will be having some of it tonight with lamb shanks braised in yogurt. Delicious...