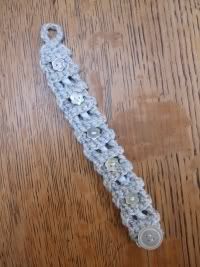 My latest creation is something I've made for my sister-in-law. I was looking for inspiration from
Bead & Button, Ribbon & Felt Jewellery
(Deborah Scneebeli-Morrell) & was keen to make a rather pretty bracelet with narrow chiffon ribbon & beads. But I left it too late & couldn't find a ribbon I liked in our local haberdashers (I should have got organised & got something online ages ago).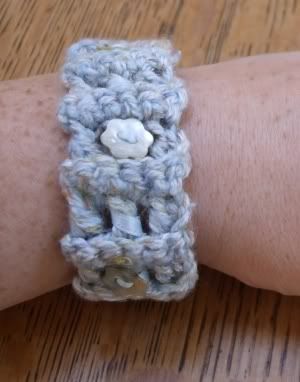 So whilst in the shop I spotted some nice silk yarn -
Rowan Classic Yarn Natural Silk Aran in flax
- & I thought I would try something else instead. What I came up with is a crocheted cuff/bracelet made up of double & treble crochets (UK stitches) with thin silk ribbon & buttons wound round the central spur created by the treble rows. I am pretty pleased with it. My only concern is that it's not something my SIL will like - the colours are right for her I am sure but I am not sure if it's her style. I am hoping that if she hates it the chocolate fudge I have also included will be a consolation to her!
Inspired by all this I thought I would try out the same design in other yarns to see how they looked - with an eye to having them available in the Etsy shop that we hope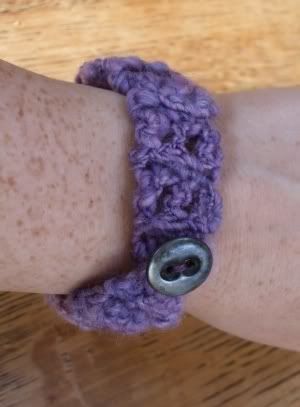 to open in late spring. So I have made (for myself - hurrah!!!) a purple version (yup, who would have guessed it - purple again...). I have to confess that I absolutely love this & have been wearing it loads. I am especially keen on the button which I found in my bag 'o' buttons, so sadly I will never find another one. What I have realsied, through constant wearing, is that it has gone a big saggy. I ought, of course, to have thought of this & made it a bit tighter to begin with. But it is a lesson learned. I think I will put this through a hot wash to see what happens...
The pin cushion promised in the last entry is looking extremely promising, but I have failed to get round to sewing it up on my machine. Hopefully will have it done in the next couple of days. The colours (green, pink, blue & red) are looking great together.