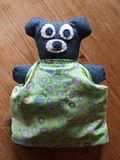 Haven't been around for a while... something to do with moving house I guess, but I have been hard at work so thought it was time for a bit of a round up of my work in progress. It was my friend's daughter's 2nd birthday last week (hi Becky, Molly & Keith!) and I wanted to make something that wasn't quite the standard soft toy. I recently managed to pick up some excellent hard-wearing blue suiting fabric on Ebay so thought I would
use that as the basis for an Awake/Asleep Bear. I remembered loving this kind of thing when I was a child & as it was something that I hadn't seen in the shops I thought it would make a good pressie for a lovely little girl. The fabric is some great Kaffe Fassett stuff that I got from
The Cotton Patch
a shop with a really excellent selection of fabric & very efficient customer service. I am pleased with the way it turned out, although I think the bear is a little boyish for his cute green & pink dress! I definitely prefer the way that the sleeping side turned out.
I also picked up some gorgeous stripey Fassett stuff which I intend to use to line a bag that I have crocheted. The pattern is based on one from
The Happy Hooker by Debbie Stoller
. This is a fun book an excellent value for money considering the number of pleasing patterns & the very clear introduction to
crochet techniques. I am particularly grateful for a tip that I have already picked up about how make edges neat by hooking into the base of the chain rather than the top on the 1st row. I have said goodbye to holey edges!! This picture is a bit out of date now because I have since sewn up the bag & blocked it & it is now all ready for its lining. I have been thinking & thinking about how I will embellish this & think I came up with an answer last night. I have made a flower with some of the lining material & am going to top this with a crochet flower (or possibly a crochet 'button'). I am dead pleased with how the fabric flower worked out so hopefully it is going to look pretty good. It will definitely go on sale in the shop when I open (next week?!) if I can bear to part with it.
I think that will do for now - I've also been working on new hairclip designs & have had a little go of doing some felting (with knitted fabric rather than from yarn) which I am very excited about. But that's for future posts.