I have no idea how I am getting anything finished at the moment - there is so much to organise with our house & garden. Of course, work in the garden has to be a bit of a priority at this time of the year - we want to have some veg to harvest come the end of July. And because it's the end of the month I've also been busy catching up the hours I work for
Any Questions Answered
- an entirely marvellous text answering service. Now I can rest easy that I'll get paid this month!
In spite of all this I have managed to get a couple more things listed in
my Etsy shop
- a
new bag
made out of some marvellous retro-style fabric &
a little sun hat
for a toddler. What pleases me most about these is that they are my own patterns which I developed myself & have worked through by trial & error. I have never been that great at thinking ahead (chess is a mystery to me..) & so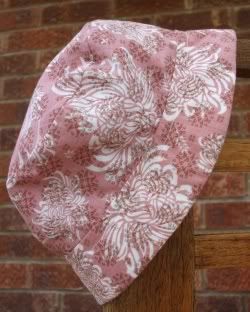 I feel pretty chuffed that I have been able to plan out patterns that haven't left me with huge holes or strange lumps in the finished items!
I have various works-in-progress at the moment. I've cut out some fabric for a couple more hats - this time in navy stripes which I hope will look rather dapper. I am trying to resist buying more Kaffe Fassett fabric so I can make MORE hats until I have finished the current ones. An incentive if ever there was one. Soon as I have them done I will be off to the Cotton Patch...
I am contemplating entering the crochet challenge on
Craftster
- which is rather brave of me because I have never even posted on there before. The theme is 'Summer Crochet' & I have a good idea that I am working on. It's a bit make it up as you go along but I like what is happening so far... What I love about crochet is that I feel confident enough with it to just start on something with just an idea in my head. I don't feel that about knitting at all... but maybe that's just because I haven't had quite as much practice with knitting.
I also have another bag design on the go. The idea is to create a bag large enough to get in a whole load of supermarket/farmers' market shopping in it whilst still looking reasonably stylish. I have my prototype underway - it's at the part sewn up stage. One of my reasons to create a bag like this is my own annoyance with 'bag for life' style shopping bags that fill up so quickly. I also have some gorgeous fabric with a huge pattern on it that would look great as an enormous bag... but, of course, I also need to avoid it looking like a big sack. I think that's the trouble at this stage!