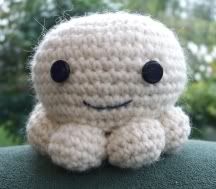 I have had such a productive few days I feel quite proud of myself. I have been working hard since we came back from our holiday to get some projects finished (always a problem for me, a well-know procrastinator...). And I have managed to list 10 (yes 10!!) new things in our Etsy shop. Hurrah! It has been looking so empty lately, although I shouldn't complain about sales, I have been feeling very conscious that it looked so sad.
The amigurumi elephant & octopus look so cute there that they will hopefully inspire to finish the squirrel, the hippo & the frog that I have *almost* completed. And from there I could do with a couple of sales to convince me that it is worth crocheting some more. I really enjoy making them but my boys already have enough stuffed toys!
Excitingly, I now nearly have everything completed & gathered together for
Jill's One Good Book swap
. I have really enjoyed putting this one together & reading my swap partner's blog -
F is for Fischer
. Lisa's book reviews are fantastic, as are all the descriptions of what she & Fischer get up to. I am just hoping that they haven't already got the book I am sending as my swap gift. I tried to make it a rather English book & one that my sons really love. Well, I guess I will soon find out - the deadline for posting is this weekend & I hope to get it all finished tonight so I can post it off tomorrow morning.