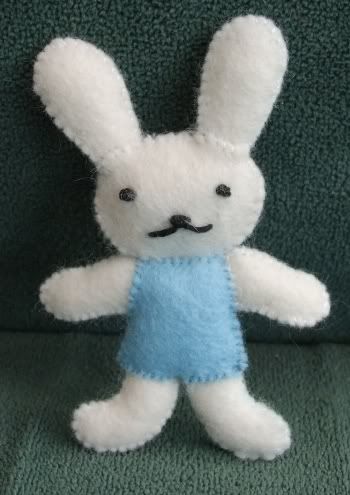 I'm in the midst of a real frenzy of handsewing at the moment. Perhaps it's because I got my new sewing machine a couple of months back - I had to force myself to switch the thing on this morning! And I haven't done any crochet since we got back from our holidays at the end of September. It's strange how these enthusiams come and go in phases. I've decided to go with them rather than fight against them, even though I would really like to make a few more crochet animals for the shop. I don't see the point of forcing myself to make stuff if I'm not keen. So I've been working on handsewn felt Xmas decorations mostly. I think what started the enthusiasm was a new book...
I was very excited to get a bonus from the
people I work for
recently. I was clever enough to get 100% in 2 consecutive reviews & as this includes spelling, punctuation and grammar it was a minor miracle! I used the money to get a couple of new craft books & selected
The Cute Book
from the rather sparse selection in my local Waterstones. It's a fun book of projects to make some really cute little creatures & here's my 1st attempt. I've added to the pattern a little bit because I wanted to make a creature with stuffed arms and legs too (the projects in the book don't generally involve stuffing the limbs) - but it was an awful lot of fiddly cutting out of felt pieces. He is very sweet but I am wondering what to do with him - I have an idea that I would like to do little bag & felt creature sets for the shop. But that will probably have to be after Christmas now.
Speaking of which - I need to get back to my decorations!