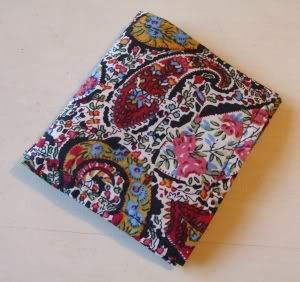 Here's the first needle book I made myself back when I was starting to craft with any kind of seriousness. It's the most useful piece of equipment that I have - no more hunting around for my fave needles through the various boxes and tubs that make up my 'storage system'. It's practical and pretty too because it's made with my favourite Liberty tana lawn fabric - I really love it & have no idea how I did any sewing without
it. It makes me feel very professional too! The ones I have run up since have sold well in the shop too, so I am obviously very fond of making them. The later versions have little ribbon and button closures too & I like finding just the right button for each scrap of fabric.
A more fiddly needle book I made recently for the Fairy Tale swap is this little lily pad (my theme, chosen by
Lottie
, was The Frog Prince). I think it came out pretty well although I now wish I had made the lily a little bit bigger (sorry Lottie!!). It's made almost entirely with wool felt - dark green on the outside, light green on the inside and the white flower. When I was making the flower I got to thinking it would make a lovely hairclip - so I am hoping to try that out when I get a chance. I think I am slightly put off by the fact that I HATE cutting felt - it always seems to go wonky - especially when I am cutting teeny tiny bits... I expect my hard-living 20s did for some of my fine motor skills. Of course felt is so lovely to sew that as soon as I get the cutting out of the way I forget all about how annoying it is & come up with lots of lovely new ideas for it. I am currently working on a very cute little Xmas pudding and a lovely little Christmas stocking - prototypes of decorations I hope to sell in the shop. Great fun!