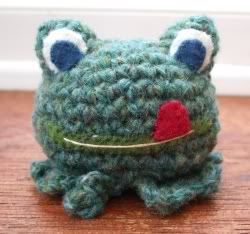 I had such a good time doing my 1st two swaps that I couldn't help signing up for another one, run by Jill at
Life With Nature Girl
. It's a book swap for kids, which is great for my 2 because they love stories... At the moment their favourites are
Oi Get Off Our Train
by John Burnigham (always popular with adults and children in our house) and
The Bear
by Raymond Briggs (the 1st of many by Raymond Briggs I hope). I really enjoy selecting new books for them & I am really looking foward to picking something out for our swap partner. That is, of course, if we survive our camping holiday next week - it could be that we never escape the mud...
I've got loads of stuff on the go, craft-wise at them moment but not much finished. I realise that I am absolutely terrible at finishing stuff. I have a whole series of crochet animals which are just requiring some finishing touches - my boys have made up a chant: "a squirrel with no eyes, a frog with no eyes, an elephant with one eye, an octopus with 2 eyes" etc., etc. There's also 6 sets of hair clips requiring clips, a tiny little felt bunny that looks like it's been dismembered. Not to mention all the half done Xmas decorations that I was trying to get ahead with, hahaha.
As a result this blog post is extremely short on photos, so I thought I would include a pic of the amigurumi (there's that word again) frog I designed and made for Lottie as part of the Fairy Tale Swap. I am most pleased with him - although he does look rather drunk I think. I think what takes him out of the ordinary is the gorgeous Rowan Scottish Tweed Yarn in Lovat (what a gorgeous name...)that I used.
Oooh, and I found another local wool shop - hurrah! It's a teeny tiny little place called Dream Wools in Tunstall (ST6 6BD), but it is packed with all kinds of goodies - Debbie Bliss, Sirdar, etc. I got some of the softest yarn imaginable - a total impulse buy - some baby llama stuff called Miski. It is woven in Peru under the auspices of
The Mirasol Project
which supports communities there. So that helped me feel a little bit less guilty about something I really don't need. I also failed to ask for (or maybe keep) the receipt so I have to use it for something for myself... :) :)