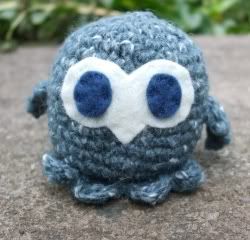 We are passionate about wild birds here. One of my sons' favourite books is the lovely RSPB published
My First Book of Garden Birds
, and they are getting pretty good at spotting different kinds of birds. We have had a lot of excitement about seeing long-tailed tits, blue tits, coal tits, dunnocks, great tits & even a lovely bullfinch in our garden this spring & summer. So, when I wanted to try making some lovely crochet animals, birds seemed like a good way to go. I also wanted to try and design something myself which meant that they had to be fairly straightforward. And then I heard from Jill at
Life with Nature Girl
that her daughter liked owls - I knew exactly what I wanted to create. So Eboo was born and he now lives with Nature Girl over in the USA & it looks like he has found a lovely home. He's a sweet little thing - I particularly like his rather wistful expression. It's funny how these creatures develop their own little personalities as you hook away.
Since then, two more feathery folks have arrived. I've made a couple of changes - to the eyes & to the feet (do I mean feet??) & once again they seem to be very much individuals. I haven't come up with names yet - maybe the boys can help me with that. For some reason I have now moved on to making an octopus - this time using a pattern from
Tiny Yarn Animals
which I received in the post today. Am I the only person who can't remember how to spell amigurumi? I have to check every single time...