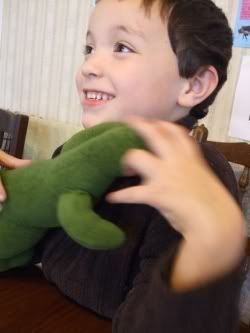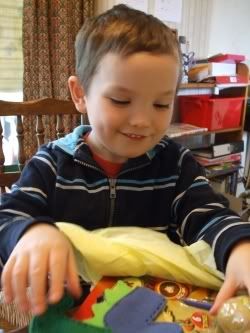 Two posts in two days - what could possibly prompt such enthusiasm for my blog?? More wonderful swap gifts of course! Thanks to
Jill and Nature Girl
my boys are thinking that their birthday has come early this year...
As you can tell by their faces! I think they are quite pleased that mum has been getting into this swapping thing. They are huge fans of dinosaurs so the gifts, with their dinosaur theme, were just perfect.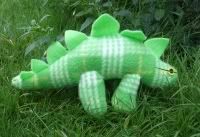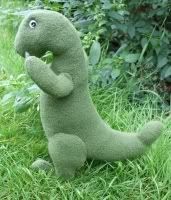 First there were 2 gorgeous softies who are right at home in our very jungly garden. I love what Jill has done with the fleecy fabric here - especially the light green check - which makes a very cute stegosaurus. And I love the shape of the T-rex. She's also used layered buttons for the eyes, which are also a great touch. There has been much (mostly) good-natured scrapping over the ownership of these 2 - it's so hard to share things that are this much fun!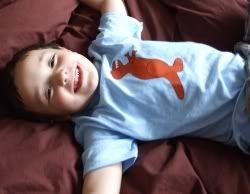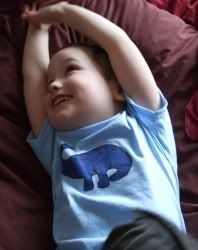 Then the wonderful T-shirts with more dinosaurs... I know I posted these pics yesterday, but the boys are so gorgeous & the shirts so fantastic that I am going to indulge myself and post them again.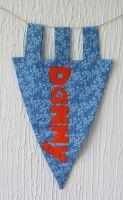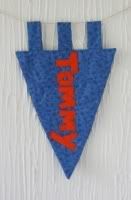 And best of all are the appliqued pennants! The boys were so delighted - they are very keen on pointing out who owns what at the moment ('that's my book', 'that's my puzzle', 'that's my....' repeat ad nauseam) so the fact that these had their names on was a HUUUGE hit. I had to rush round finding string, hammer & nails so that we could put them up over their beds straight away. Jill has made a great job of these too - making use of their favourite colours & some lovely fabrics.

We also got some super cute finger puppets, some dinosaur fossils (not the real thing, lol) and some extremely exciting American sweets. I also got a piece of lovely floral fabric & buttons! I feel like we really got lucky when we got matched with Jill & Nature Girl for our swap. Huuge thanks again for them & to Chloe at Mee Crafty for organising it all.