I feel so bad that I haven't had a chance yet to blog about the wonderful box of goodies I received from Lottie of Love Lottie as part of the Fairy Tale Swap. Lottie has sent this beautiful needle-felted elf. I am just so impressed by her skills - the elf's little face is absolutely gorgeous and I love the details on his clothes, especially the little wooden button.



My sons think he is one of Father Christmas's elves & I have a feeling that he is going to become part of our Christmas celebrations in a big way. I just hope they are not expecting me to make a needle-felted Santa Claus - I don't feel up to that at all!

I think the close-up pic shows what a great job Lottie has done - he has such expressive features, which must have been so hard to create. I'm not sure if I believe her when she says she hasn't done much needle-felting before!! Isn't he fantastic?? It would be good to think of a name for him - I will have to set the boys to work on that one.


And as if that wasn't enough I also got these gorgeous little lavender shoes made of felt with some very pretty embroidery. I think they are lovely & much too special to hide away in my wardrobe. I am sure that at least one of them will go on the hooks on our bedroom door (once we get round to putting the hooks up of course). What a great swap!

Although actually that isn't quite true because I haven't actually completed my half yet!! One bit is done but I have to get a couple more bits & bobs before I can start on my other bit of creating for Lottie. It's been a real challenge which is one of the things I like about these swaps - it's good to get the opportunity to do something different and have the discipline of the swap theme to contend with. I will give Lottie a hint & just say that it has been great to practise my crochet a bit...









Mee Crafty Swap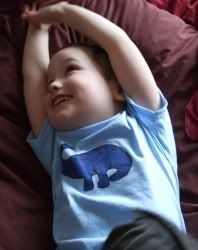 Our other swap parcel from Jill & Nature Girl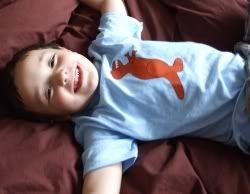 in the USA arrived this morning and caused huuuge excitement. I want to get more photos taken before posting properly about it, but here is a picture of two very happy boys doing some enthusiastic jumping on the bed wearing their lovely new T-shirts. All I can say is that Jill and Nature Girl certainly got it right when it comes to the tastes of my 2 sons.









London!
One of the reasons why I am so behind with posting about our swap gifts is that I was allowed out on Friday & Saturday & went to meet up with some old friends in London. I was a bit too knackered to do as much as I wanted to do, but I did get the chance to visit a couple of fabric shops & the treasure house of a haberdashery/fabric shop MacCulloch & Wallis. I didn't get a lot of stuff because I was really aware that I would have to carry it around all evening, but was very pleased with these vintage trims and some bargain fabric that I picked up from The Cloth House in Soho. I think they will come in handy for some Christmas crafting I want to do & for some more pin cushions I am working on.