A lovely fellow forumite (
I Want My Mum - the progressive parenting site)
liked the brooches I had on sale in my Etsy shop and wanted a variety in different colours, so I have been working hard to get them finished. Choosing the yarn was great fun - it was lovely to familiarise myself more with various collections - I have used Rowan & Debbie Bliss. I love the Rowan tweed yarns - the colours & the texture. I also encountered the Debbie Bliss Rialto range for the 1st time I am extremely impressed with the beautiful range of colours available - it's also very nice to crochet with. I am very lucky to have the real life shop outlet of the online shop
Cucumberpatch
on my doorstep so I have been familiarising myself with their stock, lol. Gorgeous shop - good job it is only open once a week at the moment.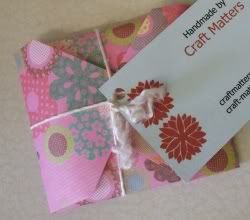 Swaps Progress
I've now finished and posted the goodies for the
Mee Crafty Kiddy Swap
. I've taken pictures of the things I made for
Nature Girl
and I am keen to post them, but wont until I know when they have been received - I don't want to spoil any surprises.
I've also started on my next swap - A Fairy Tale Swap - being organised by Apryl over at
Meridan Ariel
.
I am sorry to say that I have absolutely no inspiration for it at the moment, and my swap partner Lottie is putting on the pressure on by telling me that she has already started my gift. Eek!!


My Shop
I am most excited that I have had my second ever order from someone I don't know. This is not to say that I am not EXTREMELY pleased that friends & acquaintances buy from my shop - it is just quite nice to get an order from someone who doesn't know I really *need* the beer money. So to celebrate, here's a picture of the parcel all gift wrapped & ready to go. I really really need to get some more stuff in the blooming shop - things have been going a bit too well recently. What am I complaining about?