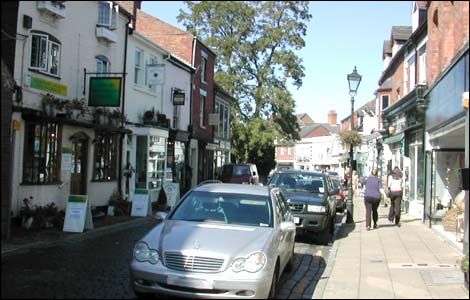 My friend Rachael
told me about a good wool shop in Newport (that's the one in Shropshire, not Gwent) when she was visiting a while back. And although I have a fantastic yarn emporium on my doorstep (
Knit 2 Together
in Wolstanton), I thought I would check it out whilst on an enforced drive to Telford the other day.
And I've discovered that Newport is really lovely - just want you want from a little market town - lots of interesting idependent shops, cobbled streets, a gorgeous sandstone church & all round general picturesqueness. The wool shop - which is called The Wool Basket (can't find any internet presence) is on St Mary's Street. It has lovely stock - Debbie Bliss, Noro, Rowan, Louisa Harding amongst others. And joy of joys there was a 30% sale so I had to buy a couple of things didn't I??
What I was really surprised and pleased to discover is that there is also a newly opened shop called Zig Zag on the same street. It's a quilter's/sewers dream - lots of very very nice fabrics, embroidery threads & notions, and an exhibition space in the back. Unfortunately I didn't have time for more than a very cursory glance because I was in a hurry but I will definitely be back. Probably to buy some fabric for the Sassy Apron Swap - which frankly has me in a total puzzle at the moment. Hopefully inspiration will strike!