For some reason I was convinced that the parcel I sent to
Fischer & Lisa
as part of Life With Nature Girl's
One Good Book Swap
wouldn't get there. I think it was because the parcel rattled in a most suspicious manner (due to the Smarties sweets I enclosed) & I imagined it would be unwrapped and detained by US customs... But it finally arrived, and I was so excited to read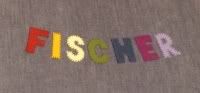 all about it
-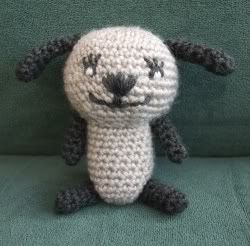 Fischer looks so pleased I must have looked at Lisa's blog 30 times today. There's nothing like gift giving to brighten your day.
I chose to send
We're Going On A Bear Hunt
by Michael Rosen, mainly because it is one of my boys' favourites (and I like it myself!) and because I think the style & illustration (by the marvellous Helen Oxenbury) is quite English - which I thought would be good for an international swap. If you don't know this version of the story you can watch
Michael Rosen reading it
on You Tube. One of the reasons why I am so fond of it is that it always reminds me of holidays we have had on the beautiful coast of Suffolk which certainly has some areas of 'thick oozy mud'. We never saw any bears there though...
The swap challenge was to send a book and associated items picking up on the theme of the book. So I made a reversible 'Bear Hunting Cloak' for Fischer with an appliqued bear on one side & his name on the other. I also sent a little ami puppy to accompany him on his bear hunts - just like the children in the story have a dog to journey along with them. I had a great time making these - once I found
this fab tutorial
for a Superhero Cape at Puking Pastilles, I knew exactly what I wanted to make - it was a great challenge & I really enjoyed it. Big thanks to Jill for organising & to Lisa & Fischer for being great swap partners.