Oh wow! We had so much excitement here yesterday when our One Good Book Swap package from Fischer & his mum arrived for Dan & Tom. They have been so generous & made some great choices for my lads.

Here's the anticipation - they loved their names being on the outside of the parcel!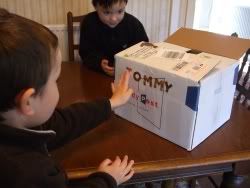 Lisa & Fischer had sent some gorgeous little treasure boxes full of all kinds of fab things - stickers, sweets, little books, bear sticking books, bear pillowcases (thank you SO MUCH Fischer's grandma), bear cookie cutters & bear Xmas ornaments. Just look how pleased they are with their boxes: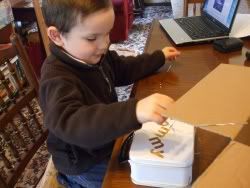 They couldn't believe how many little gifts they found in the treasure boxes!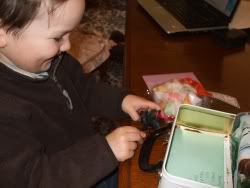 And there were even more things in the parcel! Two lovely books - Growing Up Grizzly & Sleepy Bears - which are both delightful. We have already learnt so much about bears that we didn't know before. We have also looked up about the USA & Utah in our atlas & so the boys know a little bit about where Fischer lives. We've all been interested to read about the Great Salt Lake, Salt Water Taffy, Grizzly Bears & Bald Eagles!

Here's a huge display of everything they got: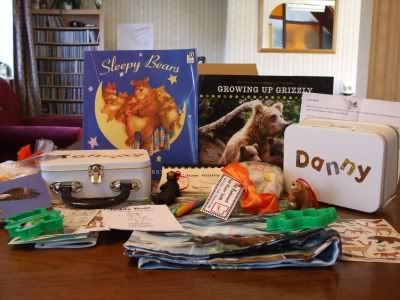 An enormous thank you to Lisa and Fischer for this wonderful parcel - the sticking alone has kept the boys occupied for the last couple of days. They have especially loved the 2 bear sticking/counting books. This is just the kind of thing that they love & we got down to doing some sticking straight away: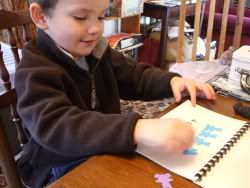 This has been such a fab experience! Thanks so much to Jill at Life With Nature Girl for organising the swap - we have had a great time & hope to keep in touch with our swap partners.