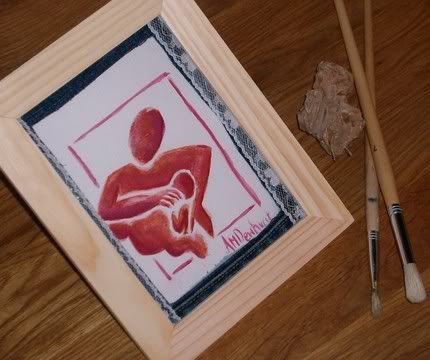 An online friend of mine has obviously been working really hard to open
her Etsy shop
. Ann-Marie creates beautiful watercolours & her current subjects are breastfeeding & babywearing. I was very excited to learn that this piece is her interpretation of a photo of me breastfeeding one of my sons in hospital just after his birth (nearly 5 years ago now!!!).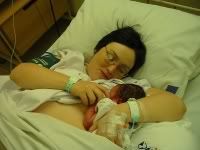 This is the photo it was based on - you can see from all the tubes etc., that I was pretty out of it, but very very happy. I think Ann-Marie's work really captures that feeling in a very dynamic way. I am very much looking forward to seeing her babywearing pictures too.
She's obviously also very talented in other ways because she has some really fun
sock monkeys
&
sock monsters
too. I hope her shop is a big success for her. Selling on Etsy can be a real rollercoaster but a very enjoyable one!