I've decided to take part in the 50 Things Challenge that I've read about in the excellent
Eat, Drink and Be Crafty blog
. The Challenge is to list and make 50 things during the year - it doesn't sound that much I guess, but then you realise it's a project a week!!! And as I've got rotten back ache at the moment as a result of picking up a large child yesterday so it doesn't feel like I'm ever going to do any crafting again... hopefully it isn't too ambitious a plan. I'm going to include the things I've already finished or started this year to give me a bit of a head start. I am also just going to do 10 at a time because what I need to make and feel inspired to make can change so much over the months. So here goes with my 1st 10: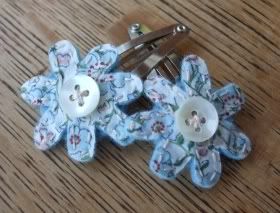 1)
1 pair blue fabric hairclips for sale on Etsy.
Done and dusted,
listed on Etsy
and pictured left. They are very pretty!
2)
1 neckwarmer/scarflet in RYC soft tweed
, see post below &
listed for sale on Etsy
3)
1 pair pink dog rose hairclips for sale on Etsy
. Done!
4)
1 large black tweed corsage.
Now for sale on Etsy
5) 1 baby gift for my friend's new baby Elsie (but not going to say what it is until it's done!)
6) 1 pair of daisy hairclips for my friend's daughter Molly
7) 1 slouch bag with huge floral pattern in brown & turquoise for sale on Etsy
8) 1 slouch bag in gorgeous rich gold fabric for sale on Etsy
9) 1 fabric/crochet/knitted (haven't decided yet) hair band to keep my hair out of the way when gardening (what, something for me?!)
10) 1 lily pad felt needle book for sale on Etsy
There's also a
Flickr Group for the 50 Things Challenge
so take a look and see what people have been up to.