I have no idea how we managed to get to January 4th already! Christmas was so busy with lots of family and friends visiting, that although I've been doing little bits and pieces of crafting when I've had the chance, I haven't had a moment to blog. I am delighted to see that I now have 8 followers (!!) and lots of lovely people have left comments even though I haven't had chance to get on here much. I hope everyone who pops round here regularly had a wonderful Christmas and I wish everyone a very happy new year.
I also see that lots of the blogs I look at regularly have been updated loads over the last few weeks & I feel very disorganised & slack in comparison! Must get my act together now that the holiday time is over.
The boys and I did lots of crafting together - mostly of the glitter paint variety - and it will be very sad to take all their homemade Christmas decorations down tomorrow. But how fab it will be to get them out again next year! And I wonder what we will be making then? This year I am determined to teach them to sew and maybe knit too...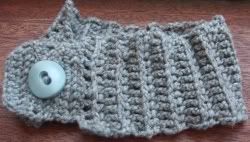 Since Christmas I've been pleased to put away my needle and thread for a bit and turn back to my crochet hooks. I have another amigurumi octopus on the go - I think I have a couple more of the legs to do and then it just needs stuffing and sewing together (but, ugh, that's the bad bit!) and it will go straight on sale.
I've also just completed what I think of as a tippet, but I think is more accurately called a neckwarmer! My oh-so-charming husband calls it a snood, but that's his early 80s upbringing and lack of fashion knowledge for you.
This mini-scarf is crocheted with RYC Soft Tweed yarn in a shade called, rather sweetly, 'Twig'. I guess that's quite an appropriate colour for this very leafless time of year. The pattern is my design and I'm delighted with the way it's turned out (I'm always amazed when an on paper idea translates reasonably accurately to reality). I'm also very pleased that I have been able to use a lovely huge button from
Vin Papa at Etsy
that I have been hording for a special purpose for some time now.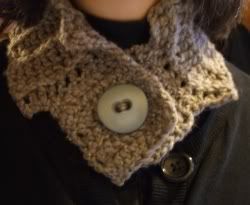 The piece needs to be
blocked
so that it tidies up a bit, but I couldn't resist posting about it now.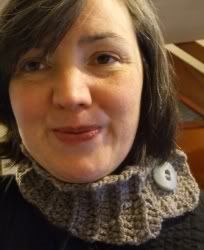 What I didn't appreciate as I crocheted it was that the design would turn out to be pleasingly versatile. Here's a picture of headless me (probably for the best just at the moment) wearing it with the button at the front. This is now I had envisaged it being worn when I was working on it. But as I was trying it on, I tweaked it round a bit and realised that it also looked great (perhaps even better) with the button worn on the shoulder. So here's another pic (with rather scary post-Xmas/NY head this time) with the neckwarmer worn at an angle. Now I've got to decide whether to keep it for myself or shove it on Etsy. As my shop is looking frighteningly empty now I've taken all the Christmas stuff out (man am I glad to see the back of Christmas stockings until next year) I shall no doubt put it on sale. And probably make another one if I can find another good yarn in my stash.
Looking at the pics (other than thinking I really do need to lose the pasty look) makes me realise that I really need to work hard on getting some good photographs of stuff for sale this year. There is a real disparity between the colours in the 3 photos here - just being in a room with better light can make such a huge difference. There's some fab tutorials and other info out there so I am definitely going to make it one of my resolutions for 2009 to get working on improving my product photos.