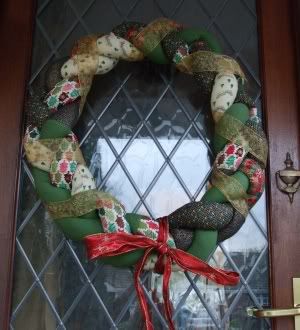 And possibly for the entire neighbourhood to point and stare at, but hey! It's Christmas and you can't be low key at Christmas time..
As you can see it's a stunningly beautiful, only slightly over the top Christmas door wreath. It's made with plaited tubes of very funky Christmassy fabric. Each of the single tubes that go to make the plait is nearly 3 metres long (can you believe it?). It took me FOREVER to stuff the damn things, and I got a very sore thumb doing it, but I have to say that I am extremely pleased with the results.
The boys like it too. They were most impressed with the lovely holly wreath that our neighbours have on their door, and this spurred me to get on with this fabric version that I had been planning for a while. I got the idea from a vintage 70s craft book that I found on one of my charity shop trawls. We have a little porch over our front door so it should keep reasonably dry out there.
We are very Christmassy here now - we have the tree up and the room is decorated. We have lovely cut out snowflakes on our window and lots of home made decorations on the tree. Today we made great big cardboard stars which we covered in glitter paint - hopefully they'll be dry by tomorrow so we can stick them on our wall. And I am so proud of myself for writing a blog post amongst all this busy-ness!