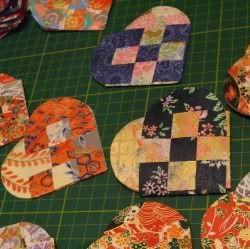 Sandy and I sat down to watch the lovely film
Once
on Thursday - what a fantastic film, I really recommend it. Whilst watching we had a real blitz on making our Christmas cards. We have 2 kinds to send out - lots of people will be getting a paper heart Xmas decoration, with a little letter slipped inside & other people will be getting a more standard card.
We made the hearts pictured using the technique of folding that I've
blogged about before
. You can download a template there if you want to have a go at making them. They are very satisfying to create. We used origami papers because they have wonderful sparkly Christmas colours and are very easy to fold (obviously!) and manipulate into the heart shapes. They have turned out slightly crazily patterned but I really like the effect. We still have to add hanging ribbon & write the letters but we are getting there... We have 2nd class stamps so they need to be done by Wed I think. Plenty of time.
The more traditional cards look great I think & are very very simple to do, so I thought I'd describe the process in case anyone feels inspired. Here's what we did: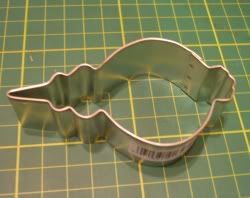 I created a card template by drawing round a Christmas cookie cutter. I used this bauble-shaped cutter because I thought it was a fun shape whilst still being pretty straightfoward to cut round. I have a shooting star cutter that I thought about using, but it would have been hell to cut out lots of shooting stars - all those angles!
I then drew round the template on the back of the origami paper, cut out the shape and stuck it on pre-folded cards that I had cut in half (because I'm mean!). I think they look fab as they are but I am tempted to stick extra glitter on them... can't have enough glitter at Christmas.
If I get time I am going to chop the offcuts of paper into strips and use them to make paper chains with the kids. That could be fun/interesting/messy...