I have been so lax recently! I guess it's a busy time of year but I find it so frustrating - I have lots of bits and bobs to post about but something always seems to come up before I get to write it down! However, I have 1/2 an hour before dinner so will make an effort to complete a post before then.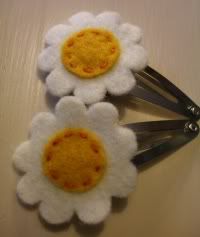 I think I'm done with Christmas stockings for a while (or at least the ones I came up with - I am in the process of copying someone else's work for a friend) & it made a LOVELY change to make some hairclips for an alchemy order on Etsy. Here they are (see left)... Don't they look pretty & spring-like!!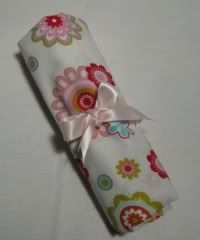 I made them for Caroline who has her own Etsy shop called
Seawood Designs
. In return I acquired one of her gorgeous art rolls (see right) - which are pretty AND practical - always a winning combination. Caroline also makes gorgeous crochet cakes which have proved incredibly popular - I think she might be trying to set some kind of record for cakes crocheted!
I also had some last minute orders from the USA for Christmas pudding decorations & had to rush to get them done in time for the last posting date. I thought I could practically make them in my sleep by now, but it appears not. Whilst I was watching the last episode of the excellent
'The Devil's Whore'
the other night I tried to make a pudding with 6 sections instead of the usual 4. Possibly I was distracted by the brilliant John Simm..
I'm told I need to go and 'encourage' the boys to tidy up - so I'm off again. But I'm aiming for another post very soon...really!