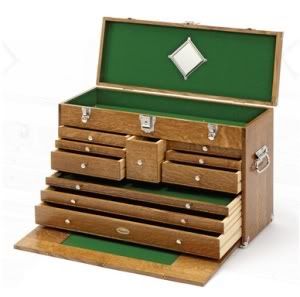 I've had some great tips about storage - some more realistic than others!!
Annalisa
suggested one of these beautiful boxes, called Gerstner Chests. If you have £680 to spare then they are available from
Manufactum
- which is a rather marvellous shop, and not everything is quite *that* expensive.
Caroline and Lisa have both suggested rather less expensive boxes. Lisa keeps her kids' craft stuff in Lock and Lock boxes. I've just had a look at them on the
Lakeland
website and they do look good. I didn't realise that they had them in so many different sizes - I've now got an idea about getting a couple to store the huge quantities of flour I buy from
Bacheldre Mill
& one to store our
Bokashi
too, but that's not really going to help with my craft mess...
Caroline wrote a fantastic post on
Really Useful Storage boxes
& I can see the attraction. The
craft boxes with lots of storage containers
look particularly useful. But something in me rebels about having yet MORE plastic boxes cluttering up my house. So I am very interested in
the very talented Cloudhopping's
suggestion of these lovely Ikea boxes. They aren't half as practical for storing little things, but for yarn, as Cloudhopping says, they would be ideal. Especially has they would fit on our Billy shelves (clever old Ikea!).
NickyNackyNoo
(who makes the most lovely cushions and accessories for children) recommends these
colourful foldable storage boxes
from Homebase. As she points out - the fact that they are zippable & have handles, makes them very practical indeed.
I have to say that the above really does put my collection of shoe boxes & jam jars to shame...