I knitted the tea cosy for the ILs last night using some gorgeous yarn (Baby Alpaca/Merino Chunky) from the
Natural Dye Studio
. But when I finished it looked really small... so I think my habit of knitting quite tightly has caught up with me again. I am going to try again tonight with some bigger needles. Fortunately it doesn't take long to knit up so I am not too irritated to have to do it again & it is a pleasure to work with the wool.
In fact it was not a particularly successful evening because I was also working on a prototype of a purse I want to make for Christmas gifts. The final result didn't really please me so it's back to the drawing board with with that one... I think I need to go for something a bit more cutsey (they are definitely your Princess girls) for the recipients to be really pleased with them. And I have to decide whether to include handles or not!
Something I am really enjoying making at the moment is brooches. This is the 1st I made -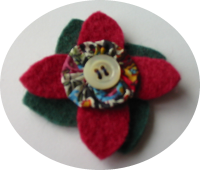 using some gorgeous Liberty paisley fabric & 100% wool felt.
I'm not totally satisfied with it - it looks a bit apologetic I think but it isn't bad for a 1st go.
Here are some others I've done:
I'd like to use some felt flowers to embellish the bags I want to make - just not sure how it's going to work out yet. I will try & have another go this evening.
One great thing about this blog is it helps me remember what I need to get on with. Just off to Ebay to see if I can find any cheap round tins for the Panforte.