People selling pretty things... mainly for sewing with


Etsy sure is big... I love it so, but sometimes I find it so overwhelming - all that inspiration - all that beautiful stuff - so little time - so little money. It's particularly frustrating if you want to find sellers based in the UK so you can cut down your postage costs. So I've been doing a bit of searching & trawling & here are some of the fabric/buttons/other fabricky stuff suppliers that I like the look of.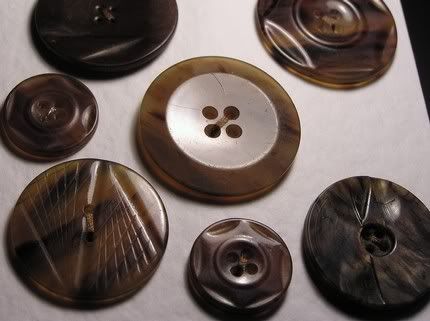 OOOh! Vin Papa is fab! What a really pleasing
collection of vintage buttons! And there's something
about buying buttons that m
akes you feel like you are actually spending your money on something really useful. The ones pictured are particularly smashing I think but there is masses to choos from.
Namolio
- beautiful linen fabric, cord, ribbon & tape. Love the selection of colours available - this shop is impeccably tasteful.
Pink Pearls
- some very interested bits & pieces - definitely my kind of taste when it comes to
fabric (see lovely pictured tweed fabric).
Tiny Island
has some (just a few) very pretty fat quarters.
Big Fish
has some lovely collections of buttons & felt in great colours (althoughI prefer to work with felt with a higher wool content).
So there you go - I'm going to try & do more in this series soon but by golly it makes my brain hurt (& my wallet ache).
Sadly as at Dec 31 2009 Vin Papa is no longer trading.