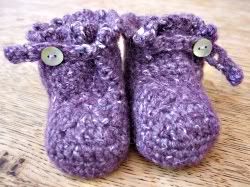 I am so ashamed to see how long it is since I have blogged. I had such good intentions too! I put the blame almost entirely down to the arrival in our house of
Mario Kart
. I thought I would find it dull, but, erm, I don't... It's great fun to sit down and play racing with the boys!
So it has taken me a while to get these little crochet booties finished. I guess they also took longer than crochet projects usually do because I designed them from scratch and they really are the most complicated thing I've ever done. I am hoping to write up the pattern for my blog, but that's a skill I'm still learning, and I suspect that there are one or two bits that could do with a bit of polishing up. I also need to learn to write things down as I do them!!
These boots are also one of my
50 Things
so that's another one to cross off my list - hurrah! I have also got a slouch bag almost done and a commission to make another bag for a friend. And I sold the 2 sets of hairclips I have made since Christmas, so all in all things are looking very positive at the moment. I just have to learn to switch of the Wii now and again.