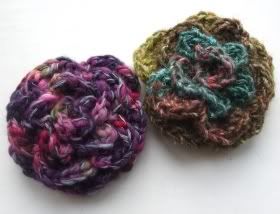 This is only going to be a short entry because
Mr Seasonal Matters
& I have just had a chat about our garden plans for this year & now I need to REST in preparation for it!
I am also dead keen to push off to bed and finish off
Our Mutual Friend
- which has proved to be a riveting read. I used to think that Dickens was ludicrous but I have recently developed a taste for the stuff... That should keep me occupied for a few years!
Back to the craft!!! I've been crocheting away and I've completed a couple of new brooches, using a different pattern to my usual. I think they are gorgeous & it's really nice to have a change of style. The purpley one is made using Colinette Prism in Fruit Coulis (great yarn) and the second using something by Noro that I've forgotten the name of (woops). Sadly, these weren't on my "50 Things" list so I need to do some updating... I've also got 3 other brooches all ready to be listed in the shop which I made sometime last year but somehow never got round to putting up for sale.
Other progress to be reported: I've made a start on one of the slouch bags, decided on what I'm going to make for the new baby present, and I made a great find of some gorgeous woolly tweedy material & great buttons at our local Oxfam. Oh yes, and my
Ravelry
invitation just came through so when I get a chance I am going to be having great fun on there. All in all I've had an excellent few days.
I've also just found out who my partner is for
Meridien Ariel's Owl Swap
- it's
Yvette
. I've just popped round to have a look at her blog & I think we have a fair bit in common, and it will clearly be a really good experience. Hurrah for swaps, and for Apryl for organising it.