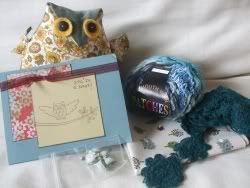 There was much excitement when my
Owl Swap
parcel from
Yvette
arrived yesterday morning. He's called Edwin (which is a funny little coincidence as that's the middle name of one of my sons) and he is already right at home with us. I love the choice of fabrics and the colours that Yvette has chosen - I don't think you can beat grey and yellow together...very classy indeed. He's soft and squishy too, which I always like in a plushie - he has had lots of cuddles from Danny and Tom - no doubt I will find it difficult to keep him where I want him! I can absolutely see why Yvette said she was finding it very hard to part with him.
I was also really lucky to receive lots of lovely crafty bits and bobs - some yarn, a gorgeous piece of hedgehog fabric, some pretty little ribbon roses and a very very inspirational piece of green flower braiding (I already have an idea about what to do with that!). And Yvette had made a gorgeous card too. Really - participating in these swaps is always so fantastic. Thanks Yvette for all the lovely goodies and thank so much to
Apryl
for organising it. You can see what all the other owl swappers have been up to at the
Owl Swap Flickr group
.