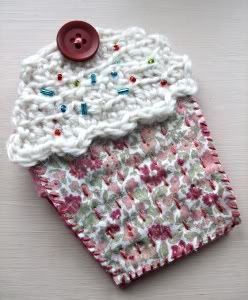 Have I mentioned before how much I love my needle book?
Err - yes
! About 100 times... It's just my favourite thing - practical, pretty, cool and always easy to find in amongst my crafty clutter. Recently I've decided that I would really like to extend the range of needle cases and books that I sell in the shop. I have
a sweet little one using some yummy Kaffe Fasset
fabric currently available, and they've been good sellers from the start.
So, I've been experimenting with something slightly different and here's one of my prototypes! I am really pleased with it - it's one of those projects where the finished product is actually fairly similar to how I imagined it might turn out. The foundation is thick pink wool felt. The cupcake case is a scrap of fabric recycled from an old Gap shirt, and I've crocheted the icing, using lots of different height stitches to create a swirly effect. I've added a red button for the cherry and some tiny beads for hundreds-and-thousands (sprinkles!). The pages are going to be creamy white felt, but I have to confess I haven't sewn them in yet...
Thinking about the usefulness of my needle book and reading
Caroline's recent post on the subject of the Really Useful Box
, makes me realise that my crafting experiences would be so much more fun if my various stashes and bits & bobs were better organised. What do you do to keep all your crafting stuff under control? Give me your tips!