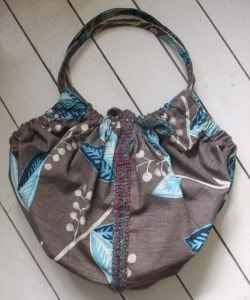 I started this soooooo long ago, I think it was just after Christmas when I had a sudden enthusiasm to dust off my sewing machine. It's finally finished and I am dead pleased with it. It's an eminently practical, really simple pattern, which doesn't take too long to run up.
It's a bought pattern (
this one by Kwik Sew
) that I've tweaked quite a bit with a slightly different shape and different handles. It's nice to feel confident enough to fiddle with a pattern, although I wouldn't feel half as confident if I was making something to wear!
I've also added a long crochet band to snazz it up a bit and so that you can tie the bag shut. There's nothing worse than putting your bag down for a second only to have it gape open and reveal everything you have in there!
I describe it as recycled because the fabrics used have had earlier lives. The lining consists of 2 pillowcases and the outer fabric is an ex-display curtain from John Lewis (the only way I can afford JL fabrics!!). Actually this pattern would make a brilliant one for making bags from charity shop pillowcases - you would need 4 in all, or 2 plus some other lining fabric. I definitely need to go on another charity shop scouting trip soon.