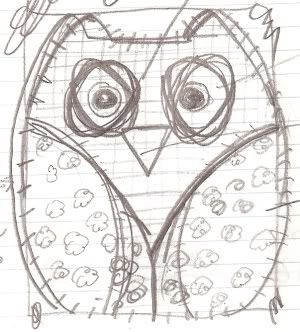 I had an email from my owl swap partner today to say that my swap parcel is on it's way - how exciting! I wonder how long it's going to take to get here from the USA?
Amazingly I finished my owl swap gift way ahead of schedule (early last week I think) but I haven't managed to get it all wrapped up and posted yet. The weather has made it a bit tough to get to the Post Office this week, and I was waiting for a delivery of something extra that I wanted to include in my package.
I didn't think it would be giving too much away to give a sneak preview of what Yvette will be getting... To be honest it's just an indication of how bad at drawing I am!
The other thing I wanted to mention is the
Crafteroo shop for Comic Relief on Folksy
. Generous folks from the Crafteroo forum are donating handmade items which are being sold for the Comic Relief charity. Great idea! Pop round there and have a look!